Weekly Maintenance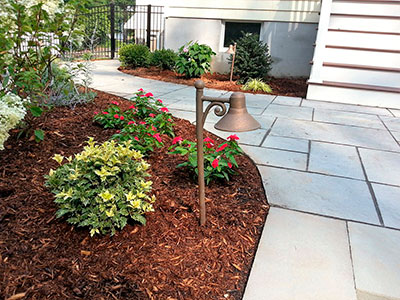 Landscape maintenance tasks are important for a beautiful and healthy outdoor in spring, it is recommended to ensure weekly maintenance throughout the year. Ongoing landscape maintenance is crucial for having healthy plants and trees. In the absence of weekly maintenance, overgrowth, fungi, and weeds can create unsightly outdoors, block sunlight, and tax the nutrients in the soil. At Ken Steenstra Landscaping, we have the experience, expertise, tools, and materials required to maintain your lawn and landscape. Our services are offered throughout Midland Park, NJ, and the surrounding cities of Allendale, Wyckoff, Ramsey, Franklin Lakes, and the nearby regions.


Benefits of Weekly Landscape Maintenance
We will inspect your property before developing a custom maintenance program. The range of services covered in our weekly maintenance program can include lawn cutting, edging, trimming, and blowing off walkways, driveways, and patios. Some of the different ways in which your property will benefit from our services include:


Increased home value
Increased appeal for potential homebuyers
Reduced heating/cooling costs
Creates a roe beautiful environment that lowers stress levels
Lawn Maintenance Services
The lawn is the first thing that anyone sees when they arrive at your home. How it looks affects how people feel about your home? Unkempt lawns are signs of an uncared of home. On the other hand, lush green lawns tell everyone that your property is cared for, boosts curb appeal, and invites visitors.

Our experienced professionals will visit your property periodically to mow the lawn. The range of services we offer includes line trimming and edging around walkways, driveway, and patios. The result will be a neat and tidy look. No debris will be left on your property. We can tailor a maintenance program to meet your needs and budget.

All mowing services include the following processes:


Mowing: This will be done on a weekly basis, customizing a plan that works best for your yard and for you. The lawn will always be cut to the right height, never more than a third of the turf.
Trimming & Edging: We have been in the landscaping business for over three decades. So, we know that lawnmowers alone cannot get all the grass in your yard. Trimming and edging around the sidewalks, driveways, patios, and plants is an important step in the weekly maintenance program. Edging will remove any grass or weed growth over the concrete walkways or driveways. The result is a yard with a polished look.
Blowing: Effective debris removal is an important part of our weekly maintenance program. Every time we trim and edge the yard, we will use power blowing to the debris from even the hard-to-reach places. We will also blow back most of the clippings into the turf to allow the soil to regain the nutrients. All excess debris and clippings are removed to leave the walkways, driveways, and patios neat and tidy.

A strict schedule and regular staff training are important aspects of our measures to deliver high-quality landscape maintenance services. If you need more information about our services, feel free to contact Ken Steenstra Landscaping today. Our services are offered throughout Midland Park, NJ, and the surrounding areas. You can reach us at 201-857-8700. We can also be reached via this Online Form.
We Provide Services to the Following Cities, Towns and Surrounding Regions of NJ: