Sprinklers & Irrigation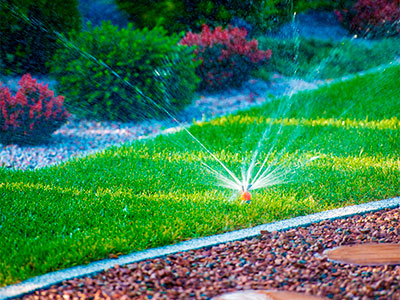 Maintaining the health and beauty of plantings in your landscape involves using the right fertilizers, soil composition, and pest control products. But it's also crucial that all the plants, shrubs, and lawns get the right amount of water at the correct times. Since every plant will have varying watering needs, you need to plan the sprinklers and irrigation installations well. That is where we come in.


Customized Irrigation Installation Services
We recognize that our clients look for value for money and our landscaping experts create custom irrigation plans that are in line with your needs and fit into your budget. We take the time to assess the types of plantings and lawns before coming up with a detailed sprinkler system design. Our team is skilled and experienced in handling even the most complex projects.

We can tackle large-scale commercial irrigation system design & planning with the same expertise as smaller residential irrigation projects. Our company never compromises on quality and will recommend only the hardiest and most durable automated sprinkler systems available on the market. We can install timers and rain sensors based on your needs, so you don't have to stress about watering your landscape regularly.


Irrigation System Replacement
Typically, irrigation pipes and sprinklers are installed in the first phase of a landscaping project, and we handle these jobs correctly. However, if your existing sprinklers are not functioning correctly or the plants are getting inadequate water, we can help with irrigation system replacements and upgrades. When we design yard sprinkler systems, we also keep scalability in view so you can expand it in the future if required. Our company will also maintain the systems installed by us, so they stay in good condition for longer.

Our expertise in this space is unmatched, and we always go the extra mile to provide our clients excellent value for money. With the right watering schedules, your plants, shrubs, and lawns will stay fresh, green, and lush, enhancing the beauty and curb appeal of your property.

As you can see, we are your one-stop-shop for all manner of residential and commercial landscape irrigation requirements. For more details about our sprinklers & irrigation services, feel free to call Ken Steenstra Landscaping, Inc, at this number 201-857-8700. You can also use the online form on this page to send us your queries and project details; one of our team members will contact you shortly.
We Provide Services to the Following Cities, Towns and Surrounding Regions of NJ: