Retaining Walls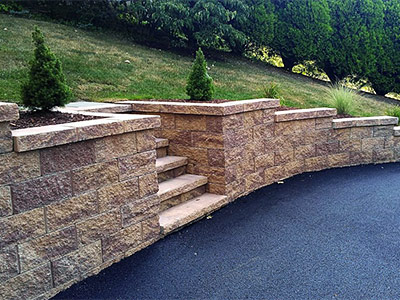 Ken is certified by the CMI (Concrete Masonry Institute) to install a wide range of retaining walls, both structural and decorative.

Choose from natural stone or concrete wall block.

We can install steps, stoops and landings to match, along with an extension of a wall to complete the look you desire.

We guarantee the workmanship of all wall jobs for a period of 2 years from the date of completion. If there is any irregular settlement in the wall stone, Ken Steenstra Landscaping will repair the affected area including all materials and labor. All products we install carry a lifetime guarantee on the structural integrity from the manufacturer.


Why Hire Certified Retaining Wall Installers?
Hiring a certified retaining wall installer is always the best thing to do even if your project only involves decorative retaining wall installation. With the help of a retaining wall expert, you can have structurally sound retaining walls that can withstand harsh weather condition and extreme soil pressure. You are also guaranteed of stylish walls that complement with the existing theme or architectural design of your home or property.

Here are some more reasons why you must hire certified retaining wall installers like us at Ken Steenstra Landscaping:


proper use of masonry tools and heavy-duty equipment
can identify soil types and proper assessment of soil compaction
follow industry standards and local regulations
knowledge of proper wall layouts and planning
efficient water management and drainage installation
proper placement and compaction of backfill
correct use of geo-synthetic reinforcements
capable of installing freestanding and tiered walls
expert installation of in-wall lighting and utilities
Reliable Service at Reasonable Costs
At Ken Steenstra Landscaping, we make sure that all our clients are satisfied with our service by providing them with excellently designed retaining walls at reasonable costs. Our New Jersey clients are also assured of top-quality wall blocks, which we source from the best manufacturers in the country. Contact us now at (201) 857-8700 so we can discuss the details of your retaining wall project.
We Provide Services to the Following Cities, Towns and Surrounding Regions of NJ: