Plantings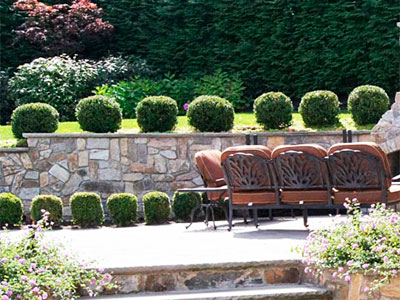 When you have a yard or garden on your property, you would want some greenery and plantings on it. In addition to lawns and trees, adding different types of shrubs and flowering bushes is a great way to enhance your outdoor spaces' beauty.

Greenery adds a distinctive touch to your landscaping, making it look alive. At Ken Steenstra Landscaping Inc., we understand this and provide commercial and residential clients with the best plantings design and installation services. Our team of highly experienced landscaping professionals will help select the best plantings to suit your preferences.

We focus on sourcing saplings and plants from the best local nurseries, which means you don't have to worry about getting low quality or diseased plants. It helps to keep your outdoor spaces healthy, reducing maintenance costs of these features as well. Our experts take the time to discuss all the details of the project with you. They survey the available space and look at which plants and trees already exist in the yard or garden. The team will then create a detailed plan and recommend the best plantings for landscaping.


Select the Right Plants and Shrubs
Choosing the right types of shrubs and plants involves more than just picking something that looks great in a nursery. The ones you opt for need to be the perfect blend of colors, textures, shapes, and sizes.

We keep the overall aesthetic and theme of the yard or garden in view while suggesting which plants will work best in a particular setting. Our expertise lies in creating well-demarcated flower and planter beds, helping you choose annuals and perennials that will lend a perfectly balanced look to the landscape.


Design Aspects We Consider While Installing Plants
If you have a compact yard or garden area, we may suggest that you use standalone planters in addition to plantings installed in the ground. This tactic gives you the flexibility to alter the pots' positions and create a new look when needed.

If your property is in a busy neighborhood or your neighbors' properties are awfully close to yours, constructing trellises with vines to create a living privacy screen is a great idea. Planting hedges along the periphery is a great way to create a natural property boundary without constructing brick or stone walls or installing fences. Some other aspects we keep in view include:


Local climatic conditions
Existing soil conditions
The plants and shrubs' watering needs
Type of irrigation and landscape drainage required

Having a detailed garden plan helps ensure that you have low maintenance plantings that will stay healthy and add to your property's beauty. For more details about our planting installation and transplanting services, feel free to call Ken Steenstra Landscaping Inc, at this number 201-857-8700. You can also use the online form on this page to send us your queries and project details, and one of our team members will contact you shortly.
We Provide Services to the Following Cities, Towns and Surrounding Regions of NJ: