Excavation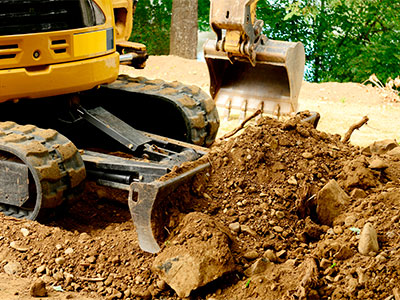 When you plan your landscaping, there are many aspects to keep in view before you start constructing the hardscapes and installing plantings and other softscaping features. This project has many stages, and one of the first is excavation. There would be some digging and grading in a new landscape or yard upgrade project.

So, when you are looking for landscapers, make sure they can tackle these aspects too. At Ken Steenstra Landscaping Inc., we understand that clients cannot run from pillar to post looking for different contractors to handle various project stages. That is why we offer start-to-end landscaping services under a single roof, including excavation and leveling.


The Excavation Process
Our company is experienced and skilled in handling a variety of landscape jobs. We know how to excavate and prep the ground so that all the structures and features have a solid foundation. Before any digging work starts, we would draw out plans, which indicate exactly where all the drainage and irrigation systems will be. The hardscaping and softscaping installations would have to be marked on these plans too.

Once you approve these plans and the location of various features and installations, we start with excavating landscapes. This job needs attention to detail, and we check the utility line plans of your property in advance. If you hand over this critical task to an unskilled and inexperienced contractor, they might damage these underground lines, leading to many problems and unrequired expenses.


Customized Yard Excavation Services
Our company uses advanced tools and technology, and we complete the job on time, safely, and to industry standards. Some of the heavy-duty equipment that we employ in all our residential and commercial excavation jobs include:


Trenchers
Backhoe loaders
Tractor backhoes
Tracked & wheeled excavators.
Affordable Landscape Excavation Services
We understand how vital it is to handle site excavation work safely and follow all standard industry protocols. Our technicians are licensed, insured, and highly experienced and know how to manage this job skillfully. We also deploy on-site supervisors who are vigilant in ensuring that the excavation work is completed on time.

This is important because the landscaping project's next stages cannot commence until the excavation and site prep is complete. During upgrade projects we also ensure, there is no damage to the features and structures that exist in your property's outdoor areas.

We manage all types of yard and landscape excavation projects at very cost-effective pricing and that provides you value for money. Whether you hire us for a landscape upgrade job or a new landscape installation project, our team has the skill, training, and expertise to handle it for you.

For more details and information about our landscape excavation services, feel free to call Ken Steenstra Landscaping Inc, at this number 201-857-8700. Our experts will discuss your project requirements in detail to plan the excavation correctly. You can also use the online form on this page to send us your queries and project details, and one of our team members will contact you shortly to get the project off its feet.
We Provide Services to the Following Cities, Towns and Surrounding Regions of NJ: