Core Aeration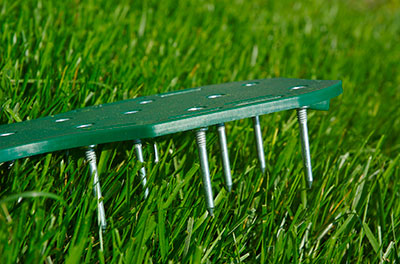 An excellent benefit that is highly recommended for a healthy lawn!

Your lawn is going to be affected adversely by compacted soil and excess thatch build-up. Interestingly, you may not even know what is limiting your lawn's growth and health. Core aeration is the process that can help break up thatch and relieve compaction, giving you a healthier and greener lawn. At Ken Steenstra Landscaping, we are your landscaping specialists with over 34 years of experience. We can inspect your lawn and create a custom core aeration plan to address the soil's unique needs.


Professional Core Aeration Services
Our core aeration and landscape maintenance services are available throughout Midland Park, NJ and the surrounding cities and areas. We suggest aerating your lawn at least twice a year – once in the Spring and once in the Fall.

So, what are the benefits of aerating your lawn? The key benefits are as follows:


Increased root access to air.
Better access to nutrients and water.
Reduction in soil compaction.
Improved plant growth.
Enables natural soil breakdown.
What Does the Process Involve?
Core aeration is the process of removing small plugs of soil from the lawn. We use the most effective and efficient core aerators to remove the soil. The process is also referred to as lawn aeration and is important for having a healthy lawn.

Some of the key facts about this process are as follows:


It works by softening hard soil by letting water penetration.
When the roots grow deeper, watering will be required less often.
You can save money on watering the lawn.
Aeration allows your lawn to stay lush green throughout the growing season.

Soil has the tendency to expand as the temperatures rise, thus causing compaction. Similarly, contraction due to lowering temperatures can also affect the soil. We can use mechanical, hand-operated, or liquid-operated aerators to take care of this problem.

There are microorganisms in the plugs that stay on the surface. When you water the lawn, these organisms will move back down the layer of thatch and cause natural breakdown. This further helps in reducing compaction.


When Should You Aerate Your Lawn?
There are many factors that affect the aeration frequency of your lawn - foot traffic being one of the most important ones. The right time to aerate is when you want the lawn can heal and grow from the process itself. You should know that aeration causes plant root disruption and is stressful for the vegetation. So, spring and fall are the best time to aerate because the temperatures are moderate, and the plants and turf are in their active growth period.

Since it is a delicate process, it must be handled only by experienced professionals. At Ken Steenstra Landscaping, we will conduct a thorough inspection of the turf before determining aeration is required or not. When done right, it can help maintain a healthy and thick lawn.

If you need more information about our core aeration and lawn maintenance services, please feel free to contact us. We are available at 201-857-8700. You may also write to us using this Online Form and one of our experts will get back to you at the earliest.
We Provide Services to the Following Cities, Towns and Surrounding Regions of NJ: